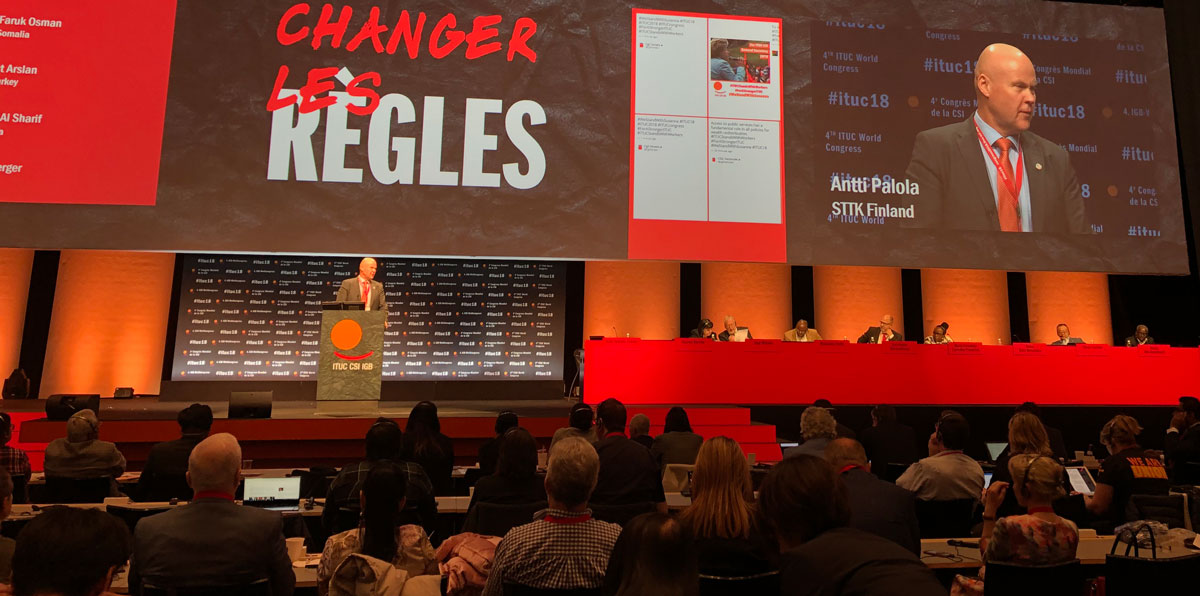 Speech by Antti Palola ITUC Congress, Copenhagen 2018
Dear congress, dear brothers and sisters. It's an honour to be here today as a part of the global labour movement representing the Finnish Confederation of Professionals – STTK.
We live to day in a time of global changes where world's economic power is shifting as a result changing power balance, megatrends and rapid development. In this time of change, we need to be involved in shaping the future and pushing for value based global development.
The labour movement needs to stay relevant
The labour movement needs to stay relevant. We need to improve our knowledge and skills and make sure that we stay at the forefront of development. It´s time we take the next step in trade union-renewal and find constructive solutions to improve conditions for workers. We need to embrace progress, digitalisation and the possibilities that they bring. We need to turn focus towards developing working life skills and competences and doing it in dialogue with employers and governments. Workers need to have high quality jobs and at the same time be adaptive to the global changes. We need to put emphasis on the wellbeing of employees but not stagnate and oppose development.
STTK has, on this topic, sent in a suggested amendment to the congress statement to gain a more balanced text that also recognizes the possibilities that global change brings.
Technological progress and digitalization is changing the world of work as we have known it. It substitutes and supplements human work in some areas. It changes the contents of tasks, and it creates new tasks and professions.
Inevitably, as a result of digitalization, the labour market value of some employees will be declining. Current education systems and labour market policies are unable to react quick enough to repair skills gaps and meet changes in demand. Our current lifelong learning systems are too stiff and too often form silos. The trainings do not adequately serve the needs of the employees.
The ability to manage change is not developed enough in companies or at state level. And there are no systems in place to ensure a secure change. This is an area where we as a labour movement need to find solutions.
We need to have a constructive approach to development
We need to have a constructive approach to development and see the possibilities. We need to be involved in shaping and defining the future of working life and creating secure structures for workers in it. This can only be done by active participation in the change that is happening. Investing in knowledge and skills and security amidst the change is the best insurances for employees and employers alike to ensure positive global development.