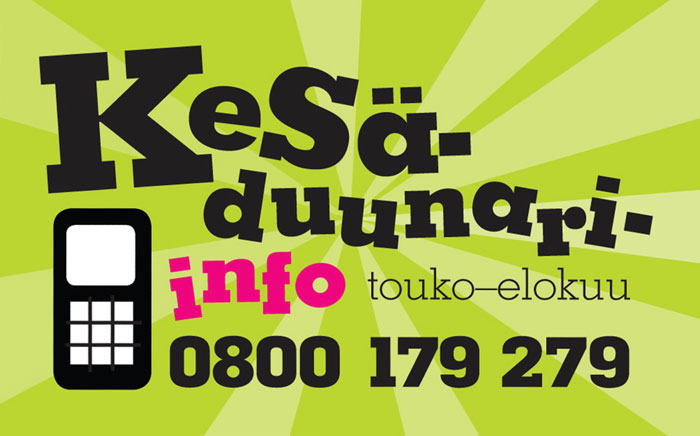 The Summer Job Helpline, provided jointly by the Central Organisation of Finnish Trade Unions (SAK), the Finnish Confederation of Professionals (STTK) and Akava, offers young people advice on matters related to summer employment. The service is available, free of charge, to young people, their parents and employers.
The service has responded to hundreds of enquiries every summer. Assistance can be requested by phone or through the Internet on issues related, for example, to wages, work shifts or the drafting of employment contracts.
Summer Job Advisor Rina Knape reminds young people that it is always important to get the employment contract in writing.
– Before you sign any contract, carefully read it and review the work terms and conditions as well as the rights and obligations of the employee. Check the number of working hours stated or promised in the contract. Anything in the contract that is unclear should be clarified and understood before the contract is signed, Knape states.
Be sure to closely check your payslip or similar wage itemization. Holiday compensation must be paid for any employment relationship even if it does not last more than a few hours.
– Make sure that your wage information is correct and that you have been paid all evening, weekend and overtime compensations. When the summer job ends, check that you receive the correct holiday compensation, Knape says as a reminder for summer employees.
The World Day for Safety and Health at Work is celebrated annually on 28 April. The Summer Job Advisor stresses that summer employees are always entitled to an introduction to their work tasks and the job itself. A proper introduction improves occupational safety and minimizes the risk of occupational accidents.
The Summer Job Helpline is open from Monday, 4 May until Friday 28 August. The service has been provided for ten summers already.
You can request information by calling 0800 179 279 or through the website at www.kesaduunari.fi. You can also follow relevant discussions in Facebook, at www.facebook.com/kesaduunari, and in Twitter, https://twitter.com/kesaduunari.
The telephone helpline is open Mondays-Fridays, from 9 am until 3 pm. The service is available in Finnish, Swedish and English. You can also call to the service anonymously.
Media photos of the Summer Job Advisor can be downloaded from the following address: https://www.dropbox.com/sh/f4mr82irm1kpps6/AACQFc-3vBXH0D7FzloeNpDKa?dl=0
The Summer Job Helpline logo can be downloaded from www.kesaduunari.fi.
Further information:
Tatu Tuomela, SAK, Youth Secretary, 040 534 0577
Hanna Hesse, STTK, Senior Advisor, Student and Youth Activities, 045 678 9878
Miika Sahamies, Akava, Senior Advisor, Young Adults and Working Life, 050 530 5366