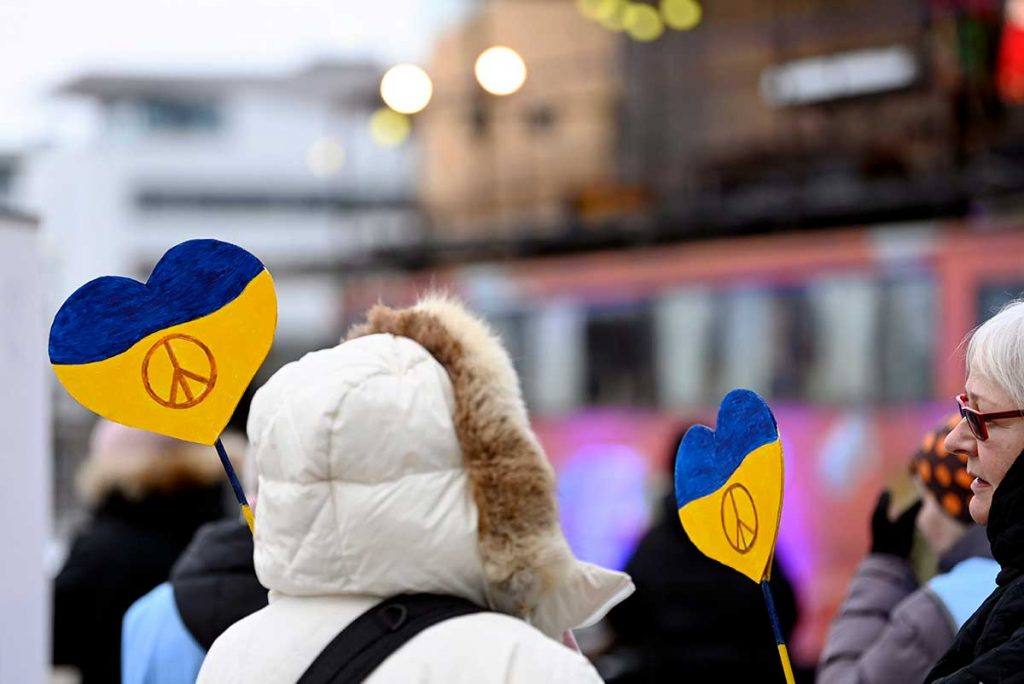 Updated 11.4.2022
The Russian invasion of Ukraine has been a huge shock and disappointment to Finns. The war also came as a surprise even though developments in Russia and the occupation of Crimea in 2014 have greatly increased suspicion towards Russia among Finns.
We strongly condemn the Russian invasion of Ukraine and demand an immediate stop of the Russian aggression and withdrawal of Russian troops. The invasion is a gross violation of international law, human rights and a direct assault on democratic values. We stand united with the people and workers of Ukraine.
Sanctions
The Finnish economy is less dependent on Russia than is often believed in the West. The share of our exports going to Russia has been declining for many years. It used to be almost 20% but by 2021 it had dropped to around 5%. Many Finnish companies had already reduced their presence in Russia before the war, but the conflict has prompted a large number of Finnish companies to withdraw from Russia altogether. There has been broad support in Finland for EU sanctions against Russia despite the economic harm they are causing.
Refugees
About 15,000 refugees from Ukraine arrived in Finland in March 2022 and their total number is estimated to reach between 40,000 and 80,000 this year. There were already Ukrainians living in Finland before the conflict, which means that some of the refugees have friends or family members here from whom they can receive help and support after arriving in Finland.
A large number of people have also come to Finland from Russia, but most of them have continued their journey to other countries. There have been regular train connections to Helsinki from both St Petersburg and Moscow, but the services have now been discontinued until further notice.
Finland has a fairly large Russian minority, which means that there are Russian-language services and communities in Finland helping people arriving from Russia and Ukraine. Russians have lived in Finland for centuries, because we were an autonomous part of Russia in the 19th century. Many Russians also moved to Finland after the Russian Revolution of 1917, and the immigration peaked after the break-up of the Soviet Union.
Energy
Energy accounts for a large proportion of Finland's imports from Russia and the end of these imports would have a significant impact on Finland. However, Finland is not as dependent on Russian energy as Germany, Italy or some other Central European countries.
Crude oil accounts for a large proportion of the energy imported from Russia. Fortunately, it is easier to replace Russian oil with oil from other countries than such products as Russian natural gas. Russian natural gas does not play an important role in Finland's energy production.
There has been a great deal of discussion in Finland about the nuclear power plant under construction in Western Finland, a joint project with the Russian company Rosatom. The Finnish Government has announced that it can no longer support the granting of an operating licence for the plant, and some of the Finnish shareholders have already disengaged from the project.
Fortum, Finland's largest energy company, owns power plants in Russia, and the continuation of their operations is now in doubt. As the State of Finland has a major stake in Fortum, this could also result in large financial losses for taxpayers.
Foreign trade
In 2021, Russia accounted for 5.5% of Finnish exports. Russia is the fifth largest export market for Finland, and most of the exports are capital goods. The situation is very different from what it was decades ago, when Russia accounted for about 20% of Finnish exports.
In recent years, about 10-13% of Finnish imports came from Russia and they mainly consisted of crude oil and raw materials.
Impact on economic growth
The Russian invasion has increased energy prices in Europe, and Finland is no exception in this respect. This will boost inflation, which is already at a high level. If the war persists, it may also drive up food prices.
The Bank of Finland has estimated that the war and the sanctions prompted by it will cut economic growth by between 0.5 and 2 percentage points in 2022 and by between 0 and 0.5 percentage points, depending on the length of the war, the extent of the sanctions and counter-sanctions and the adaptability of the economy.
Security policy
Finland has relatively strong armed forces based on compulsory military service, which enjoys broad support. Over the past 20 years, Finland has increased military cooperation with NATO but it is not a member of the organisation. There has been discussion in Finland about joining NATO for many years, and the Russian invasion of Ukraine has led to a sharp increase in support for membership. However, no decision has been taken yet to apply.
For more information:
Jaakko Haikonen, jaakko.haikonen@sttk.fi, International affairs.